ARIES ELECTRONICS / LARSEN ASSOCIATES
---
| | |
| --- | --- |
| | Test Sockets, Burn-In Sockets, IC Adaptors, High Temperature Sockets, Chip Adapters, Display Sockets, Standard & Custom Packaging Solutions |
---
Chip Scale Test Socket
Test & Burn-In of CSP, MicroBGA, DSP, LGA, SRAM, DRAM and Flash Devices, etc. Any SMT Device! .2 mm pitch & up

Chip Scale Test Socket for 28 mm to 55 mm packages
Test & Burn-In of CSP, MicroBGA, DSP, LGA, SRAM, DRAM, QFN, Flash Devices, etc. Any SMT Device! .2 mm pitch & up
.2 mm pitch and up, Chip Scale Test Socket for 28 mm to 55 mm packages
"Aries, world leader in test socket technology"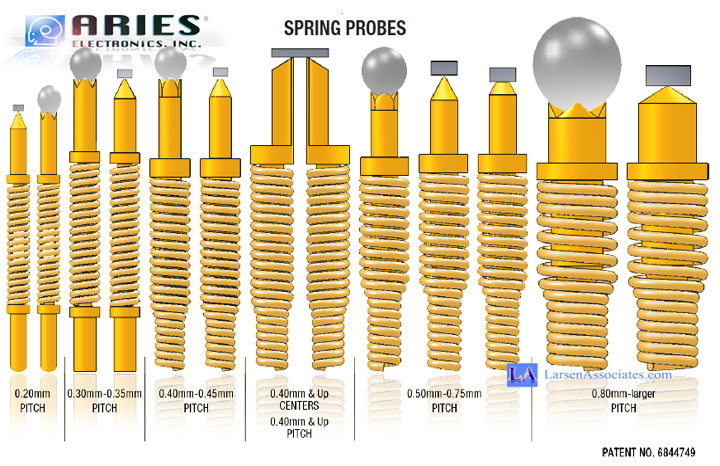 Now available .2 mm pitch and up.
Features:
¥ For Test & Burn-In of CSP, MicroBGA, DSP, LGA, SRAM, DRAM and Flash Devices.
¥ Any pitch device on 0.20mm or larger.
¥ Pressure mounting, no soldering required.
¥ 4 Point crown insures scrub" on solder oxides.
¥ Signal path during test only .077" (1.92mm)


¥ Accommodates any package up to 27mm

2.
¥ Small overall socket size/profile allows maximum number of sockets per BIB and BIB's per oven, while being operator friendly.

Specifications:
¥
Molded socket components are UL94V-0 PEEK and/or Ultem.

¥ 1dB Bandwidth at 1Ghz (0.80mm pitch) (large probe).

¥ Estimated Contact Life: = 500,000 cycles.

¥ Compression spring probes are heat treated Beryllium Copper Alloy with 30u" min. [.75um] Gold per Mil-G-45204 over 30u" min.[.75um] Nickel per QQ-N-290.

¥ Contact Force = 9-12g per contact on 0.50 - 0.75mm pitch 17-20g per contact on 0.80mm pitch or larger.

¥ Operating Temperature =
-
55°C (min.) to 150°C (max.);
-
67°F (min.) to 302°F (max.).

¥ All Hardware is Stainless Steel.

¥ Typical Burn-in Temperature = 125°C.
Mounting Considerations:

¥ Aries supplies (4) four #4-40 screws and tapped, insulated, backing plate for mounting.

¥ Sockets must be handled with care when mounting or removing sockets to/from PCB.

¥ Test board PCB diameter = .026" (0.66mm)
Note: Aries specializes in custom design and production. In addition to the standard products shown on this page, special materials, platings, sizes, and configurations can be furnished, depending on quantities. Aries reserves the right to change product specifications without notice.
EZ Quote Request
or Contact us by email
Back to top of page / Selection Guide / Large Photo of above /
For Test Sockets over 1 GHz, Click Here
---
Adaptor Sockets (Any Footprint to Any Footprint, Any Pin to Pin, Any Termination, 26 days),Correct-A-Chip© Adapters, Horizontal and Vertical Display Sockets , Elevated Sockets, Test Sockets. IC, ZIF, BGA, SOIC, LGA, PLCC, QFP ,PQFP, DIP, SIP, PGA, TSOP, TO, SWOIC ASIC Sockets, Ejecting,Oscillator, D-Ram, Pin Carrier Sockets. Headers, high performance production LGA asics sockets, pin ball LGA BGA socket Jumpers and More. Aries is located in Frenchtown, N.J., U.S.A. Microprocessor BGA sockets Ball Grid Array Land grid array
---
| | | | |
| --- | --- | --- | --- |
| | For | Contact | LARSEN ASSOCIATES |
| - | Catalogs | | Phone 650 358-9559 |
| - | Quotations | | |
| - | Engineering | | |
| - | Sales | | |
| - | Information | | |
| - | Distributor list | | |
| - | Data Sheets | | |
---
---
Copyright © 1988-2014 LARSEN ASSOCIATES
---