Aries Electronics / Larsen Associates
---

Get A Quote! Quotation Request
Test Sockets, Burn-In Sockets, IC Adaptors, Display Sockets, Standard & Custom IC Device Packaging Solutions -
---
---
- Get A Test Socket, and / or Burn-In, Socket Quote Quickly!
---
Quotation Request: Get a Quick Quotation:
- Please send the following information and we will send you a Factory Direct quotation.

1.) Please send a POD, (package outline drawing), with dimensions and tolerances. (usually a .pdf, or the URL)
2.) How many sockets do you need quoted? (There is no minimum requirement, No tooling, NO NRE, a small set-up.
3.) Please send your full contact information, with location and phone for the quote.
Send to: Larsen Associates
We can go from there, and send you a quote.
Looking forward to working with you!
---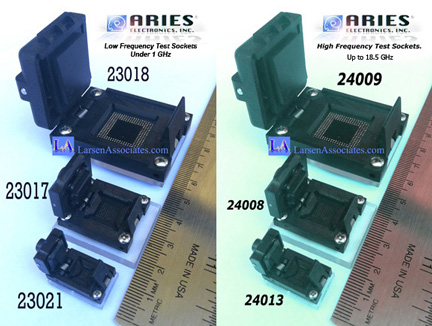 Many more styles, configurations and options are avaiable to suit your exact needs. Any surface mount SMT IC device,
---
Note: Many options are avaialble if needed.

Just about anything special you want: High or low frequency, optical, access top and / or bottom, temperature high or low, atmospheres, or ambient conditions, venting, thermocouple, heatsink or slug, spring probes or elastomer contacts, and more, etc..

Standard molded sockets bodies can be customized, or full machined customs are avaiable.
- What do you need?
BGA, CSP, LGA, QFN, SOP, etc., any SMT package, any pitches or mixed pitch, any configuration.
---