Aries Electronics / Larsen Associates
---

Test Sockets, Burn-In Sockets, IC Adaptors, Display Sockets, plus Standard & Custom Packaging Solutions
---
---
Correct-A-Chip Adaptors, IC Adapter Sockets and Conversion Products
---
Think you need to "SPIN" your board ?
Think Aries "Correct-A-Chip" Adapters Instead !
---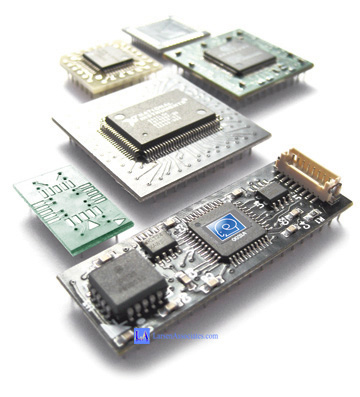 ---
You Can Have:

Any Footprint To Any Footprint.
Any Pin To Pin
Any Termination style To Any Style
Additional components added
Small, Medium or Large volume
26 working days or less
---
"Before you Spin, Think Adapters instead"
---
- CUSTOM -
for Production and Prototype
Before you Spin, Think Adapters,
Saves money, engineering time, time to market, costs, etc..
Aries manufactures just about any Custom adapter, with any pin out, and with any combinations of footprint and termination styles, quickly and cost effectively for prototyping, or your production needs. Aries specializes in production adapters at any volume. Aries specializes in providing production adapters in place of costly board spins.

Get A Quote: Custom Adapter Check List (HTML) (PDF)
(This checklist details the few items we need from you, to provide a quote to you in 24 hours or less)
---
- Also some STANDARD one to one parts -
for Production and Prototype
Aries manufactures a large number of production Standard off-the-shelf IC adapters and conversion products. Generally these products have one to one pin outs. In some cases they have specialized pins outs to fit the particular application. These parts are readily available from Aries and Aries distributors.
Adapters include Aries Electronics chip adapter sockets IC adaptors conversions SOIC TO DIP SOWIC SOJ PLCC QFP PGA PQFP SSOP VQFP SOT MSOP BGA LGA and more
Click Here for:
A List of Standard Correct-A-Chip IC adapter & conversion products