Aries Electronics / Larsen Associates
---

Test Sockets, Burn-In Sockets, IC Adaptors, Display Sockets, plus Standard & Custom Packaging Solutions
---
---
Aries Chip Scale Test Sockets:
Spring Probes, Data Sheets, & Test Reports
Chip Scale Test Sockets & Burn-In sockets for MicroBGA, DSP, LGA, SRAM, DRAM, QFN, Flash Devices, ANY SMT device 0.2mm Pitch & Up.
"Aries, world leader in test socket technology"

Now available .2mm pitch and up. .

---
The family of Aries Clamshell style test sockets consist of five standard sizes of sockets each accommodating a wide range of devices. The socket is screwed to the board with four screws. Electrical contact is by way of pressure spring probes. The sockets are designed to be modified to work with BGAs or LGAs or just about any other type of SMT device regardless of footprint, from 1mm sq up to as large as 55mm square. The exterior of the sockets are standard, and the interior interposer, and the pressure plate, and device guides, are modified to accommodate the users particular style of device, 0.2 mm pitch & up

---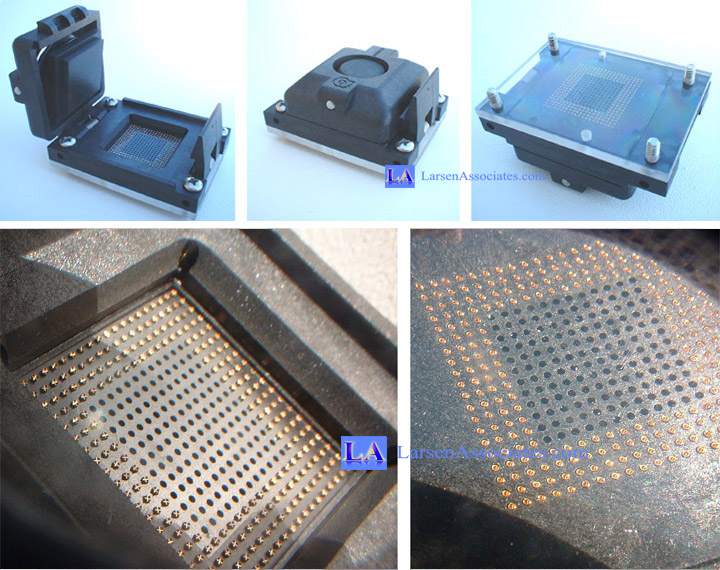 Shows Spring Probes, top and bottom, typical of the Aries Clamshell type test socket family.
( Shown above: Test socket for 14mm to 27mm sq devices, Data sheet 23018)

---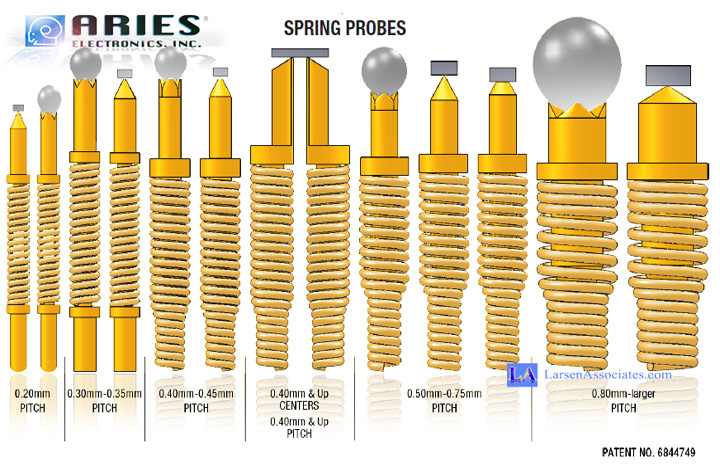 Now available .2mm pitch and up. .
---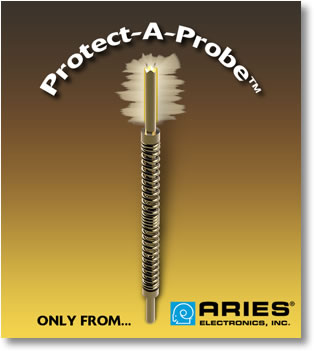 ---
Protect-A-Probe™ anti-diffusion, gold coating for its complete line of burn-in and test socket spring-probes.
The Protect-A Probe™ coating is designed to lessen or eliminate the need for probe cleaning, by applying its proprietary, anti-diffusion, gold coating onto the probe before assembly. This coating, once applied, acts like a "Teflon" barrier preventing solder and other debris from adhering to the probe tip. This lessens (or eliminates) cleaning, which reduces downtime and increases throughput!
When used in HAST, HTOL or standard burn-in applications this can prevent the IC solder balls/bumps from "sticking" to the probe causing damage to the IC and/or socket. When used in test (including RF testing) applications, a probe that stays cleaner, longer, will yield more consistent contact resistance (CRes) readings over a longer period of time. This saves time and money.
This coating has been tested in a socket with an IC which had SAC405 balls on 0.35mm pitch for over 1500 hours at 150°C. No debris or IC or socket damage was noticed.
This coating is now available for the Aries' complete line of spring-probe, standard and custom Test and Burn-in Sockets as well as the complete line of spring-probe based RF Test Sockets.