ARIES ELECTRONICS / LARSEN ASSOCIATES
---
| | |
| --- | --- |
| | Test Sockets, Burn-In Sockets, IC Adaptors, High Temperature Sockets, Chip Adapters, Display Sockets, Standard & Custom Packaging Solutions |
---
"Aries, a world leader in test socket technology"
Aries KELVIN Test Sockets, CSP Kelvin tests sockets for any smt device
Kelvin Test Socket Kelvin Test & Burn-In CSP, MicroBGA, DSP, LGA, SRAM, DRAM and Flash Devices, etc. Any SMT Device!

Chip Scale Test Socket for 1 mm or less up to 6.5 mm packages
Test & Burn-In of CSP, MicroBGA, DSP, LGA, SRAM, DRAM, QFN, Flash Devices, etc.Any SMT Device!

<1Ghz to 18.5GhZ
Aries KELVIN Test Sockets
"Aries, a world leader in test socket technology"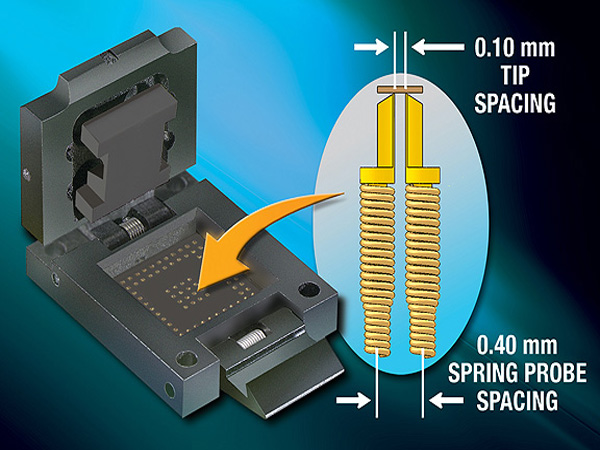 Kelvin Spring Probes: A Kelvin contact can be made using either two standard spring probes with pointed tips, shown below, or with the dual Kelvin probes with slanted tips shown above depending upon the pad space avaialble and pitch requirements. With Aries Kelvin spring probes an amazing 0.10 mm tip spaceing can be achieved. Send us your requirements for an estimate or price and delivery quote. Please send your device drawing and quantity required. Contact us today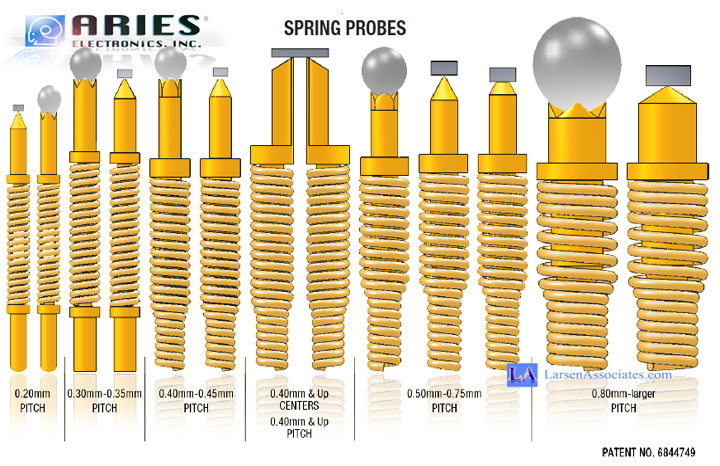 KELVIN Testimonial:
".......Just wanted to give you an update on how the Aries Kelvin sockets performed.The socket for our device performed excellent both electrically and mechanically.Tested over 10k parts on the SRM handler with the Aries socket. The tips were very well centered on the pads. Later we will be testing more sockets and I expect them to perform just as well. I am very satisfied with the price and performance of Aries sockets. I would have no reservations about recommending Aries sockets to my colleagues........"
DH, Test Engineering Manager
---
Now available 0.1 mm tip spacing
1GHZ or less = DATA SHEET # 23022.pdf
FEATURES
- Low resistance testing using dual independent Aries Kelvin spring probe technology per device pad for testing of MLF, QFN, LGA and other leadless devices.
- Any pitch device on 0.40mm pitch or higher
- Socket is easily mounted and removed to & from the test board due to solderless pressure mount compression spring probes which, are accurately located by two molded plastic alignment pins and mounted with four stainless steel screws
- The Au over Ni plated compression spring probes leave very small witness marks on the bottom surface of the device pads
- Small overall socket size/profile allows max. number of sockets per test board, while being operator friendly
- Kelvin Test Socket Contact System is available for any Aries CSP and Center Probe Test Sockets
- Pressure pad compression spring provides proper force against device and allows for height variations in device thickness
- Probe blade edge tip for cutting through solder oxide layers
- Signal path during test only 0.082 [2.08]

---
GENERAL SPECIFICATIONS
- MOLDED SOCKET COMPONENTS: UL 94V-0 Ultem
- MACHINED SOCKET COMPONENTS: UL 94V-0 PEEK or Torlon
- ALL HARDWARE: Stainless Steel
- COMPRESSION SPRING PROBE: heat-treated BeCu
- COMPRESSION SPRING PROBE PLATING: 50µ min. [1.27µ] Au per MIL-G-45204 over 50µ min. [1.27µ] Ni per SAE AMS-QQ-N-290B
- DURABILITY: 500,000 cycles min.
- CONTACT FORCE: 16g/contact on 0.40-0.45mm pitch
- OPERATING TEMPERATURE:-55¡C [-67¡F] min. to 150¡C [302¡F] max.

---
MOUNTING CONSIDERATIONS
- See ÒPCB FOOTPRINT TOP VIEWÓ for requirements
- REQUIRES: four #2-56 screws and PEM nuts for mounting (not supplied Ð mounting holes size shown may differ depending on PEM nut selected)
- NOTE: Sockets must be handled with care when mounting or removing to/from test board to avoid damaging sensitive spring contacts
- TEST PCB DIA. "G": 0.012 [0.31] (small probe 0.40-0.45mm pitch)
- TEST PCB DIA. SPRING PROBE PAD PLATING: 30µ min. [0.75µ] Au per MIL-G-45204 over 30µ [0.75µ] min. Ni per SEA AMS-QQ-N-290. Pad must be the same height as top surface of PCB. Please refer to the Custom Socket Drawing supplied
---
Note: Aries specializes in custom design and production. In addition to the standard products shown on this page, special materials, platings, sizes, and configurations can be furnished, depending on quantities. Aries reserves the right to change product specifications without notice.
---
Get A Quick Quote
or Contact us by email
Back to top of page / Selection Guide / Aries Gallery of Test & Burn-in Socket Images
For Test Sockets over 1 GHz, Click Here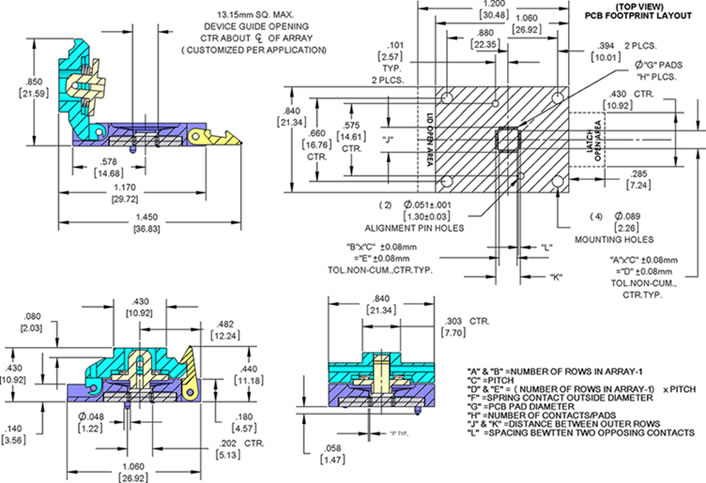 ---
Adaptor Sockets (Any Footprint to Any Footprint, Any Pin to Pin, Any Termination, 26 days),Correct-A-Chip© Adapters, Horizontal and Vertical Display Sockets , Elevated Sockets, Test Sockets. IC, ZIF, BGA, SOIC, LGA, PLCC, QFP ,PQFP, DIP, SIP, PGA, TSOP, TO, SWOIC ASIC Sockets, Ejecting,Oscillator, D-Ram, Pin Carrier Sockets. Headers, high performance production LGA asics sockets, pin ball LGA BGA socket Jumpers and More. Aries is located in Frenchtown, N.J., U.S.A. Microprocessor BGA sockets Ball Grid Array Land grid array
---
| | | | |
| --- | --- | --- | --- |
| | For | Contact | LARSEN ASSOCIATES |
| - | Catalogs | | Phone 650 358-9559 |
| - | Quotations | | |
| - | Engineering | | |
| - | Sales | | |
| - | Information | | |
| - | Distributor list | | |
| - | Data Sheets | | |
---
---
Copyright © 1988-2014 LARSEN ASSOCIATES
---
6/30/14