EXATRON / LARSEN ASSOCIATES
---

"Building Beyond Your Expectations Since 1974"
Automated Handlers, Testing, Laser Marking , Programming, Custom Equipment for the Electronics, Medical, Military, Commercial & Industrial Industries

---
---
Exatron's Tabletop, Mini IC Test Handler for Lab Use Desktop ATE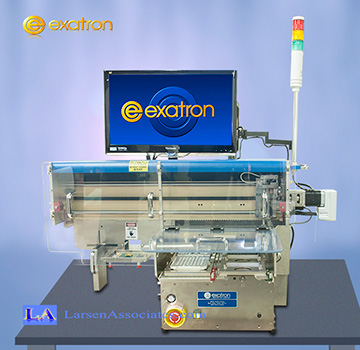 Mini table top automated test IC Test Handler, featuring a low cost, single test site, small simple compact size pick & place tabletop Exatron ATE Model 902-24-RL

---
This Mini Table Top Single Site Test Handler is ultra high quality and a real nice value and low cost price, plus its fully designed and made in the USA by Exatron.

All this and it starts under $40,000.

Compare with anything on the market, then ask us for the best Mini Table Top handler made.
Model 902-24 Mini Table Top Single Site Test Handler

The Exatron Model 902-24 Table Top Tabletop Desktop Single Site Test Handler is an automated Pick & Place system ideal for engineering and the test development of IC System Level Testing (SLT). The tabletop system has the capability of handling a vast variety of test device types and sizes ranging from 1.6x1.6mm to 60x60mm. To maximize productivity, the 902-24 offers a remote function allowing the handler control from a distant location through an Internet connection. Equipped with 2 software allocable JEDEC trays the 902-24 maximizes the engineering test capability saving cost and time, all within a small table space.  A user-friendly graphic interface (Windows 7) system provides a quick and easy device setup and near kit-less change over, simplifying the process and increasing efficiency. Manufactured in San Jose, California.

Key Features:

27" wide, 33" deep, 20" tall
2 JEDEC trays
1.6x1.6mm to 60x60mm devices
Near zero mechanical adjustment or change over kits
Software configurable binning
Servomotor/PC controlled device placement
Handles all SMD and leaded device types
Servomotor/PC controlled contact force
Double stack protection
Continuous automated retest
Remote control operation
Vision assisted set up
Alerts to mobile device
---
Test Site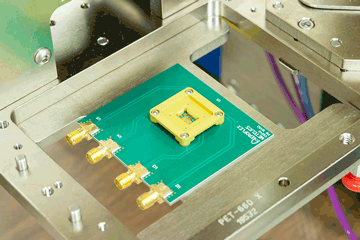 Typical Test Site for Exatron Mini Tabletop Semiconductor Test Equipment

---
Specifications:
Device Type
SOIC, SSOIC, TSSOP, MSOP, PLCC, LCC, CSP, QFN, BGA, SIP, DIP, SIMM, SODIMM, QFP LGA, PGA, Flat Pack, PCB, LCC, Custom

Test Sockets
Supports nearly all OEM test sockets on the market
Exatron custom built spring probe sockets
Exatron Particle Interconnect RF and CSP sockets

Test Site
Single site standard
Dual and quad site options

Jam Rate
1/5000 with Exatron built test sockets

Tray
2 JEDEC trays, all formats, 2" and 4" waffle packs, input & output tube trays
Handler tray holders have a built in small volume "bucket" for additional sort capability.
---
Rotating Pick-up Head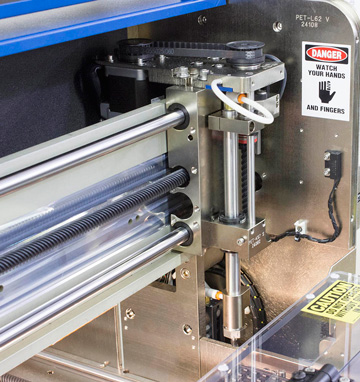 Typical Test Head with Rotation for Exatron Mini Table top IC Test Handler

---
Binning
up to 8 sorts standard* Output tray sort mapping*
Drop to bucket standrad

Rotation
0-360 degrees, software controlled

Contact force
0 to 20 lbs standard*, software controlled

Contact mode
Software controlled pick & place and hold down

Tester control interface
TTL/opto isolated*, RS-232*,  GPIB*, Ethernet*

Tester DUT/Socket board
Many mounting options
8" under side of board clearance
Up to 24" square with centered socket

Operator Interface
Windows 7 User Interface
Standard data log file generation software

Remote Control
Internet access standard* Remote training, troubleshooting & service standard
Dimensions & Weight
27" wide, 33" deep, 20" tall (excludes light pole) Under 100 pounds
---
JEDEC Trays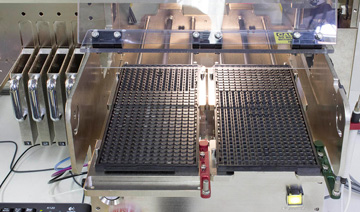 Dual JEDEC Trays for Exatron pick & place tabletop mini IC Test Handler
---
Facilities:
100-240 VAC 50/60 Hz,   80 PSI @ 2 CFM Clean Dry Air (CDA), Internet connection*   (Please note for standard applications, we can add an upgrade so that no additional air supply is required for customers who do not have CDA available)

Vision assist:
Standard built in camera to assist user in set up of new devices

Double part protection
Standard built in vacuum sensor checks for empty socket at start of job and checks every pick & place during operation

Mechanical precisor ready
Built in controls for many possible precisor options
---
Optional Tape Input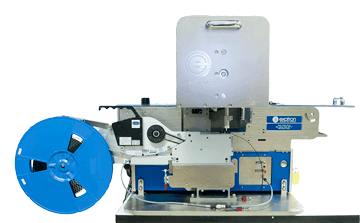 Exatron tape input buit to suit your needs for compact IC table top test handler

---
Change over kit
Near kit-less change over: Change the pickup tip (if needed, no tools required) Change out the test socket. Load new JEDEC trays. Load a previously set up JOB and run your next test.
Change over mechanical adjustments
All software controlled with standard set up

Temperature upgrades
30" gantry allows for single temperature test site in the field upgrade
36" gantry allows for dual temperature test site in the field upgrade
Many ways to add thermal test* -55C to +155C 

Media upgrades
May require additional gantry length
Detaper input
Exatron built tape & reel output
Tube input and/or output
Bowl feeder input
Bucket outputs
---
contentOptional Precisor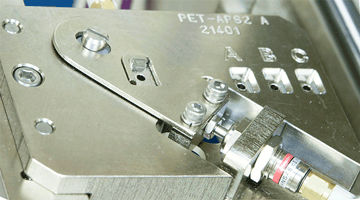 IC Device precisor for the low cost table top IC test Handler from Exatron

---
Vision upgrades
May require additional gantry length
Top Side OCR camera (for serialized device testing)
Bottom side 2D and 3D lead inspection options (requires table option)
Marking Upgrades
In tray laser mark
Print & apply label application
* Many upgrade possibilities

Mounting Upgrades
Table top mount standard
Many welded steel table options
Built in lift options to allow effortless handler movement

All this,plus designed and made in the USA by Exatron, and it starts a a budget friendly under $30,000

Contact Us today for Exatron Model 902-24-RL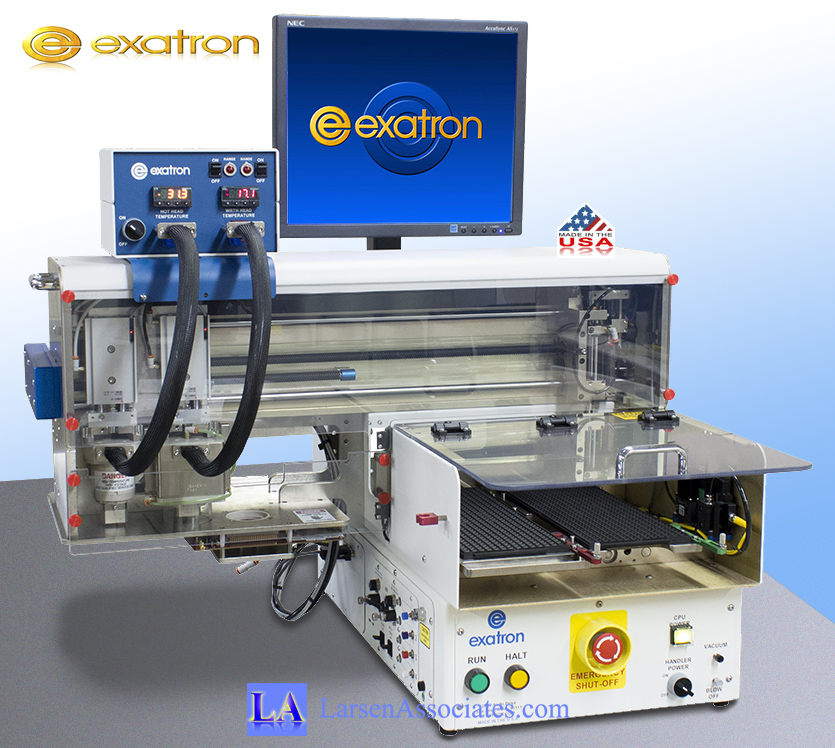 Exatron Mini Tabletop Desktop IC Handler for Lab use with Dual Thermal Head, dual trays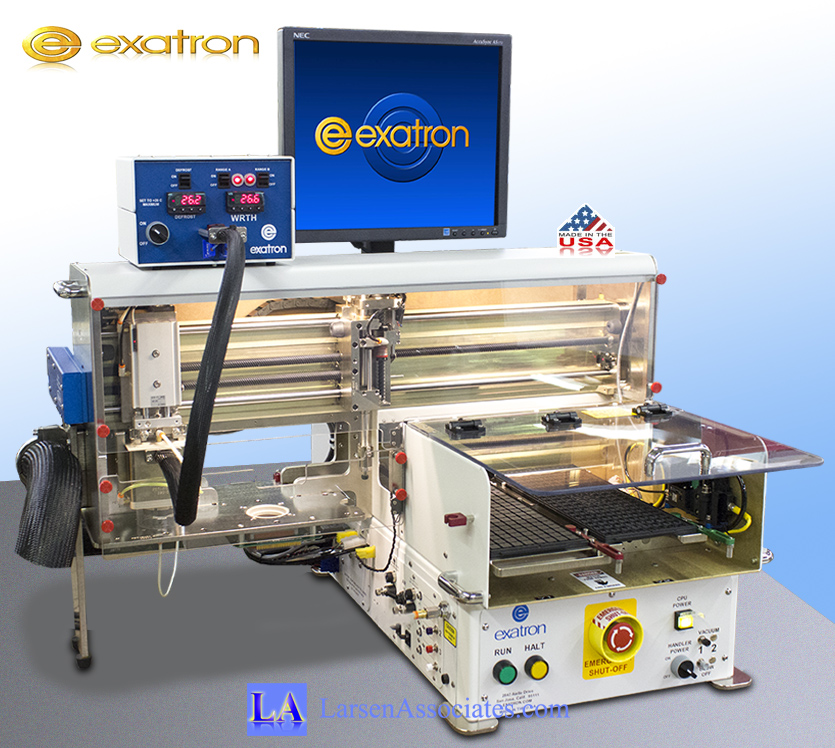 Exatron Mini Tabletop Desktop IC Handler for Lab use with single site, single Thermal Head, dual trays