EXATRON / LARSEN ASSOCIATES
---

"Building Beyond Your Expectations Since 1974"
Automated Handlers, Testing, Laser Marking , Programming, Custom Equipment for the Electronics, Medical, Military, Commercial & Industrial Industries

---
---
Wide Range Thermal Head (WRTH) IC Test Handler
Exatron's New Game Changing Wide Range Single Thermal Head IC Test Handler technology brings to the market a compact, No Fluid, No Frost Build Up, conduction heating and cooling system with a minimum range of -55C to +155C range all in one Single Head and all internal to the handler. This is available in new handlers, and can be retrofitted into most existing handlers.
The Heating and Cooling Thermal IC Testing future is now here!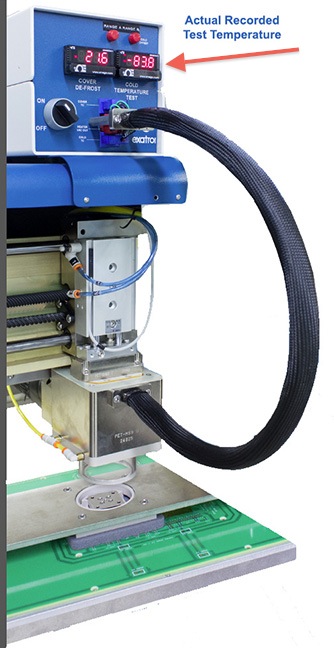 ---
Wide Range Thermal Head (WRTH)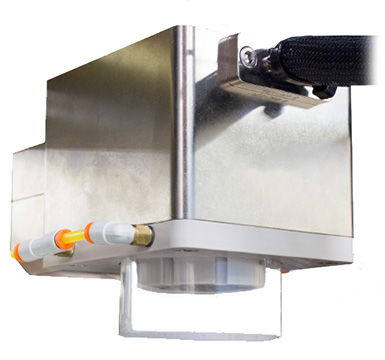 Robust New Hot and Cold Combination Test Head
-55 C to +155 C minimum range.
+/-0.5 C temperature control.
Conduction heating.
No fluid required.
Thermal head makes direct contact with DUT and test socket.
Type T thermocouple mounted in thermal head.
Built-in top side purge air cover.
No frost buildup during cold testing.
Built-in cold source.
Built-in resistive AC heaters.
Software-controlled temperature, soak timer, ramps, and calibration.
Easily integrates into new and existing Exatron Pick and Place and Rotary Handlers.
---
Unmatched Range
With a minimum range of -55 C to +155 C,
the WRTH offers unmatched
temperature range and +/- 0.5 C control.
Multiple controlled temperature ramping
and auto temperature calibration
software options are available.
No Frost Buildup
Built-in top side purge cover
eliminates frost buildup on WRTH tooling.
Allows simplified design of DUT test socket
purge covers.
Efficient and Accurate
Coolant-free operation eliminates
the risk of leaks. Direct contact to DUT
when testing ensures accurate,
consistent temperatures.
Convenient and Reliable
The WRTH includes one size of thermal head tooling, typically a simple copper block, designed to a specific package size and test socket.
Customers are welcome to create their own custom WRTH tooling.
We will provide drawings as needed.
Components are designed and manufactured in-house at our machine shop in San Jose, CA.
Exatron offers full support for the lifetime of the product.
---
Specifications:
Power: 110/120 VAC or 220/240 VAC, 50/60 HZ
(Specify at time of order)
Socket Pressure: 0 to 50/100/150 PSI
(Specify at time of order)
Pressure may be manually adjusted
or CPU-controlled.
Contact Exatron for details
Purge Air: Requires -100 F or less dew point
purge air source.
(sold separately)