---
BGA Test and / or BGA Burn-in sockets,
and Ball Grid Array Packages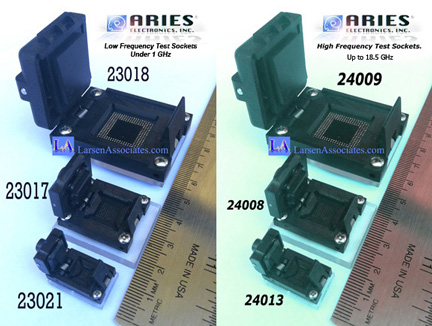 Low Frequency and High Frequency. Test and / or Burn-in Sockets.
For Any SMT Devices including BGA, etc..
Standard bodies with interiors custom made to fit your exact IC device.
---
Aries Electronics is different.
Aries makes BGA Test and Burn-in sockets in the USA
BGAs of Any Size IC device, Any Pitch, Any Mixed Pitch, Any Configuration.
NGA Sockets are made to order using standard bodies and custom made interiors to fit your exact device exactly.
There are No Tooling Charges, No NRE charges, No Minimum order requirements, and in its place only a very small machine set-up fee per order.
About 25 working days delivery. Expedites are possible.

These BGA sockets are good for bench test all the way to production including burn-in temperatures and HAST.
There are no standard part numbers, as each BGA socket is made to order to fit your exact device exactly, and a unique part number is assigned to you and your device.

These BGA sockets are high performance Spring Probe sockets, patented by Aries, made to fit your exact device. These are Not low performance, cheap, off-the-shelf, stamped contact sockets.

Specials to other manufacturers are normal and usual to Aries. Aries thrives, where other manufacturers have difficulty going in cost, in time to market, and in engineering quality, verstility, and complexity.
---
BGA Test and / or BGA Burn-in socket Options:

What do you need?
Almost Any Option can be available.
Optical lens or no lens,
Top access hole,
Access, top and / or bottom
High Temperature,
Low Temperature,
Heatsinks & Heat Slugs
Max Airflow designs,
Components cutouts under the socket,
RTDs, Thermocouples, heaters,
Screw down Lids etc., You name it.

Ask us.
---
Some Typical Ball Grid Array Packages, similar BGA Package types:
FBGA Fine-pitch ball-grid array
LBGA Low-profile ball-grid array
TEPBGA Thermally-enhanced plastic ball-grid array
CBGA Ceramic ball-grid array
OBGA Organic ball-grid array
TFBGA Thin fine-pitch ball-grid array
PBGA Plastic ball-grid array
MAP-BGA Mold array process - ball-grid array
UCSP Micro (μ) chip-scale package
μBGA Micro ball-grid array
LFBGA Low-profile fine-pitch ball-grid array
TBGA Thin ball-grid array
SBGA Super ball-grid array
UFBGA Ultra-fine ball-grid array

And likely more. What do you have?
---
Note: Also Aries Electronics makes similar Test and / or Burn-in sockets for any SMT / SMD device with or without leads such as BGA, LGA, CSP, SOIC, SOT, µBGA, Bump-Array, QFN, QFP, MLF, DFN, SSOP, TSSOP, TSOP, SOP, SOIC, LCC, PLCC, TO, and just about any style of IC device made. Just ask us.
---
To get a quote:
1.) Please Send us a POD,( Package outline drawing),
2.) The number of sockets you need quoted. (No Minimum requirement)
3.) Your contact and location info.
- We can go from there.
---