Aries Electronics / Larsen Associates
---

Test Sockets, Burn-In Sockets, IC Adaptors, Display Sockets, plus Standard & Custom Packaging Solutions
---
---
IC Test Socket Breakout Boards

Now its easy to have a custom IC break-out board test fixture with your IC test sockets for your semiconductor IC device.

You can have just about any configuration you need as these boards are made to suit your exact needs. Note: There are no standard part numbers. Thats a good thing as the test socket and the breakout board will match your exact device, exactly, no so called off-the-shelf-parts that may, or may not really fit yourr IC well. No contact issues here with Aries.

Tell us what you require and we will send you a quote with a part number just for your breakout board. Based on Aries pattented "Correct-A-Chip" adapter product line Aries can make a custom breakout board that will be rugged, relaible, and exactly what you need.
---
Get a quote for a breakout board,
Please email a request to us with the following information:
- Your name
- Company name
- Phone number
- Include a POD, package outline drawing, or data sheet of the device to be placed on breakout board (top image)
- include a drawing or data sheet of the target footprint for the breakout board (bottom image)
- Include a list of any other design parameters or restrictions that must be considered
- Tell us the quantity of breakout board to be quoted.

Contact us today.

---
Typical Custom breakout board test fixture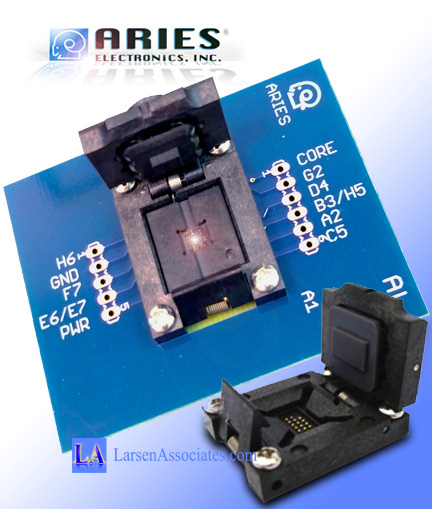 Breakout board with IC test socket custom made for your application

---
Another Typical IC Semiconductor breakout board with IC test socket

Break-out board test fixture custom made for your aplication

---
Test Socket Breakout Board

Features:
Fan-out from an Aries Socket / DUT on a small pitch array (=>0.4mm) to a larger pitch / array for prototyping or programming
Allows DUT to connect to breadboard or ZIF socket for prototyping or programming
Adapt to existing test benches and tooling
Can be manufactured for RoHS compliance
GENERAL SPECIFICATIONS
---
Board Material:
0.062 [1.58] thick FR-4 or Rogers 370 HR, with 1/2-oz. Cu traces, both sides
Pads: finished with ENIG (Electroless Ni Immersion Au)

Trace Width / Space: 0.003 [0.076]

Operating temperature: 221°F [105°C] FR-4, 266°F [130°C] Pb-free

Mounting Considerations:
Solders to existing PCB footprints for QFPs, TSSOPs, and many other fine pitch devices down to 0.4mm
---
Typical Large Custom Break-Out Board, Test fixture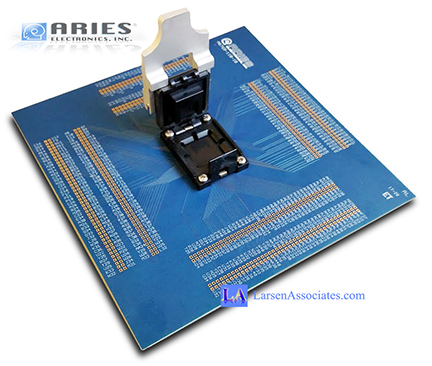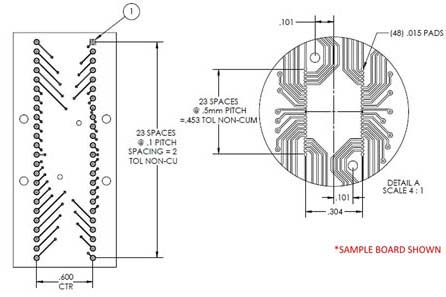 Typical IC custom break-out board layout. An example is shown, yours will be exact to your needs.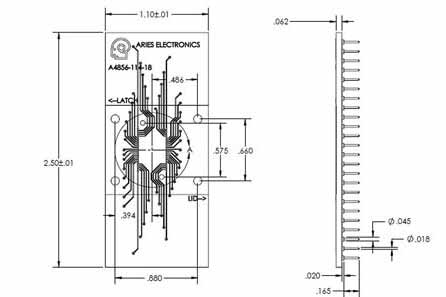 ---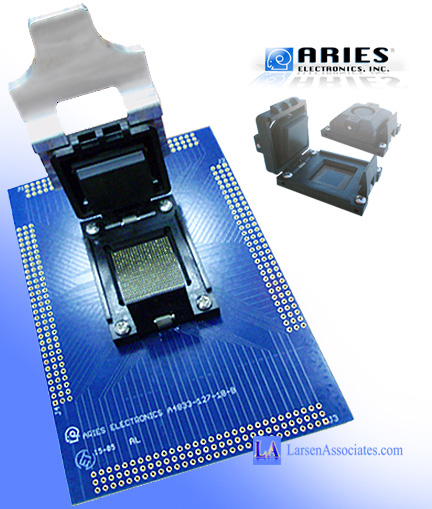 Typical custom breakout board. An example is shown, yours will be exact to your needs.