Aries Electronics Announces Protect-A-Probe™ Anti-Diffusion Gold Coating
Now Available for All Spring-Probes

Bristol, PA – March 10. 2014 – Aries Electronics, a US manufacturer of standard, programmed and custom interconnection products, burn-in and test sockets used worldwide, announced today at the BiTS Conference Workshop in Mesa, AZ, the introduction of its unique Protect-A-Probe™ anti-diffusion, gold coating for its complete line of burn-in and test socket spring-probes.

The Protect-A Probe™ coating is designed to lessen or eliminate the need for probe cleaning, by applying its proprietary, anti-diffusion, gold coating onto the probe before assembly. This coating, once applied, acts like a "Teflon" barrier preventing solder and other debris from adhering to the probe tip. This lessens (or eliminates) cleaning, which reduces downtime and increases throughput!

When used in HAST, HTOL or standard burn-in applications this can prevent the IC solder balls/bumps from "sticking" to the probe causing damage to the IC and/or socket. When used in test (including RF testing) applications, a probe that stays cleaner, longer, will yield more consistent contact resistance (CRes) readings over a longer period of time. This saves time and money.

This coating has been tested in a socket with an IC which had SAC405 balls on 0.35mm pitch for over 1500 hours at 150°C. No debris or IC or socket damage was noticed.

This coating is now available for the Aries' complete line of spring-probe, standard and custom Test and Burn-in Sockets as well as the complete line of spring-probe based RF Test Sockets.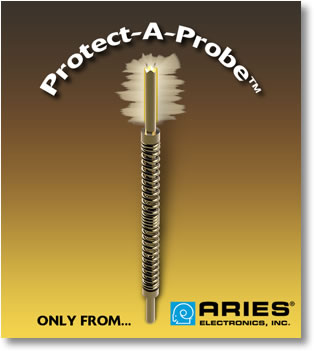 Aries Electronics Announces Probes on 0.2mm Pitch
 
Bristol, PA – October 2013 – Aries Electronics, a US manufacturer of standard, programmed and custom interconnection products and test sockets used worldwide, announces its latest addition to its socket spring-probe repertoire with new probes capable of contacting devices on 0.2mm pitch.
These new probes enable socketing (for test and burn-in applications) for many new device packages and bare-die being designed and made on this pitch. The contact and spring material are gold-plated Beryllium-Copper. The probes are available with either a pointed–tip or crown-shaped termination.
These new probes will yield >100k cycles over a temperature range of -55°C to +150°C. This performance makes these probes ideal for socketing for bench test or burn-in applications. In addition, these probes yield a very low inductance (~0.59nH) signal path making them compatible with testing RF devices at 10GHz and beyond. They require about 6g of compression to actuate and can be placed on a 0.004" diameter PCB pad.
These probes can be used with any of Aries standard molded and machined CSP socket bodies. This enables the customer to use this socket on any new or previously existing test (or burn-in) board.